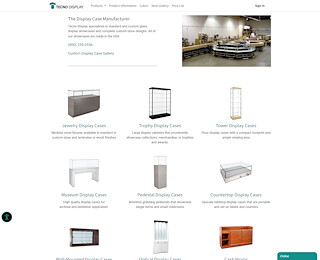 Well made, handsome display cases may be custom created to coordinate with your existing office furniture. Choose natural wood finishes that emulate your desk and chairs. A cohesive, unified appearance is very professional. If you prefer a painted finish, we can provide that for you. We are an American company in America.

If you have gone to the time and expense of finding and purchasing the perfect office furniture, you won't want your display cases to clash with your well planned decor. Tecno Display can make any sort of custom display furniture you desire. Choose from a wide assortment of natural woods or painted finishes that work wonderfully with your color scheme and office furniture. Show off what you want, the way you want with a marvelous, hand crafted case from Tecno Display. We make displays, wall cases and cash wraps that can stand alone or be incorporated into a modular system that fits perfectly into your space.

Our manufacturing facility is situated in Hayward, California near the beautiful San Francisco Bay. We have always been an American company. You may find cheaper display cases made elsewhere, but they are not apt to be as well-made from quality materials as the cases made by Tecno Display. At Tecno, we will build a display cabinet that is as handsome as your office furniture. We've been in the same San Francisco area location since 1976. When you want to show something off to its very best advantage, and you want to support a proud American business, call on Tecno Display. We make classic showcases and ultra modern 21st century display cases, too. If you live in or are visiting the East Bay, come take a free tour of our cabinet manufacturing facility at 2277 National Avenue in Hayward, California. Please call before you come, so we can have someone give you the grand tour.
Tecno Display
(800) 255-3536
2277 National Avenue Hayward, CA 94545
CALL NOW
(800) 255-3536
We Specialize In: office furniture suppliers,design office,furniture discount,furniture desks,modular,furniture wood,sale office,executive office,buy office,furniture online,cheap,furniture modern